The pieces displayed on this page are in stock (unless specified otherwise) and directly available. If the stock is empty, a reedition is likely. Please note that some of these jewels are ones-of-a-kind and may not be reedited!
These jewels are inspired by archaeological finds. As such, these are perfect accessories for the demanding reenactors.
Uppåkra Mask
Reproduction of a historical find from Uppåkra, Scania, Sweden and dated from the viking period (800-1050) without further precision.
The original is in bronze.
21 mm wide, 40 mm long, 6 mm thick
Hole's minimal diameter 2 mm
Vårby Amulet
This medal, Jellinge-style, is a reproduction of one of the pendants of the Vårby hoard, Sweden, Xth century.
The original is gilded silver.
37 mm wide, 39 mm long, 2 mm thick
Hole's minimal diameter 2 mm
Zoomorphic-headed viking pendant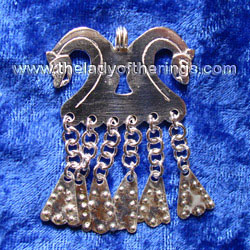 1 one-of-a-kind piece currently in stock
925 Silver
.00 CHF
This piece is an adaptation of numerous viking archaeological finds, entirely crafted by hand.
These amulets are thought to have been worn to repel harmful entities with the rattling noise they produce.
40 mm width, 57 mm high
Ring's diameter 4 mm
Viking Drop with glass bead

Currently in stock
925 Silver antiqued striped glass
.00 CHF



This piece is a replica of a minor viking archaeological find, made in silver and adorned with an antiqued finish glass bead.
The original of this pendant was in bronze, with a white bead, probably made of stone.
1.7 mm wide, 2.7 mm long
Ring's diameter 3.5 mm